Name:
Joshua E. Kruk
Nickname:
The BlackFlame of War
Age:
?? (looks to be around 19)
Race:
Demon
Weapon:
Black Diamond Broadswords (kurodaiya tsurugi)
Appearance: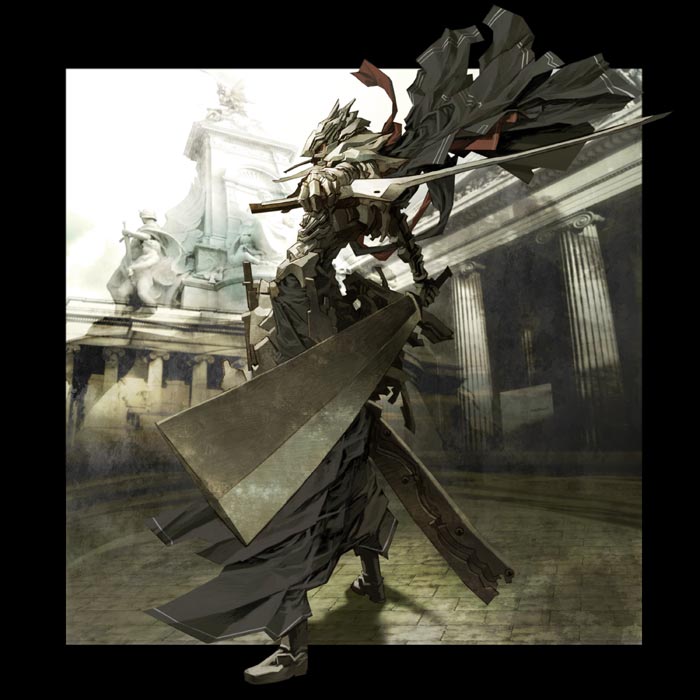 Same general armor, but red, black, battle-scarred, and a bit "sharper" looking. Swords are not like his current ones in any way, shape, or form.
Personality:
Kruk has two personalities. Outside of battle and in battle. When Kruk is outside of battle he is silent and mysterious. In battle Kruk is cocky, and merciless. Kruk loves white cherry blossoms.
Abilities/Skills:
Master swordsmanship, veteran of war, manipulate hellfire, create rifts. Create wolves, summon wolves and demons at will. Kruk has a Reflection ability that allows him to reflect any attack that has been used against him back at his opponent, he may enhance it how he likes. Gravity Core is an unknown element that has entered Kruk's body. It has the ability to manipulate Gravity and Pressure. Kruk's right eye looks like a wolf's eye and can see cells and particles when Kruk "activates" it.
Gravity Core - Sword Form:
Fire Power:
Clear(just visible): Weak fire.
Boohoo you burned your little fingers >.>
Red: Average fire.
Slightly hotter than a normal bonfire kind of fire.
Orange: Damaging fire.
Starts to cause some damage.
White: Powerful fire.
Very strong fire, will melt metals.
Blue: Extremely powerful fire.
Will incinerate metals and possibly even diamonds.
Black: God-like fire.
Will incinerate anything it touches. Period.
Wolf Form: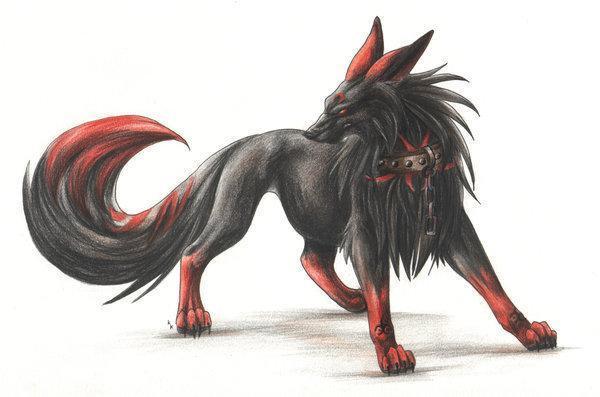 Blazing Wolf Form:
Can't be hit by physical attacks.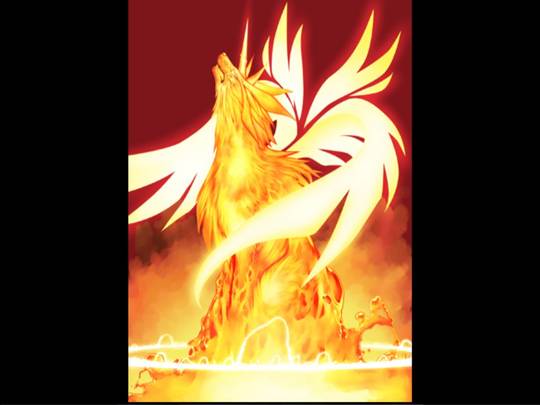 Hell Form:
All abilities increase 1000-fold. Eyes turn pure white. Grows a black tail, teeth sharpen, grows claws. Senses become instinctive. His swords fuse together to make one blade, Akazuno Jigokudouyuushi (Yuushi for short).
Forbidden Technique - Hell's Forbidden Destiny:
Can only be used in extreme conditions. Can only be used at Dusk. Eyes glow pure white. His body and armor fuses with the pure energy that makes up all of Hell itself. Gains perfect control of all three legendary abilities: Time, Gravity, and Space. All abilities increase 1,000,000-fold. His aura becomes more compact and is hotter than anything that exists and can disintegrate anything it touches. His armor takes a sharper, and more "wolf-like" form. It's rumored that in this state he is stronger than an Overlord.
Voice:
(The Legendary) Yuri Lowenthal ( https://www.youtube.com/watch?v=ieP3oIXkcJI&feature=related ) For more examples listen to Haseo(from .Hack//G.U.), Sasuke(From Naruto, or Luke/Asch(from Tales of the Abyss).
~~~~~~~~~~~~~~~~~~~~~
Here are a few pics of Kruk when he was younger.
A pic of him around the time that he joined the war.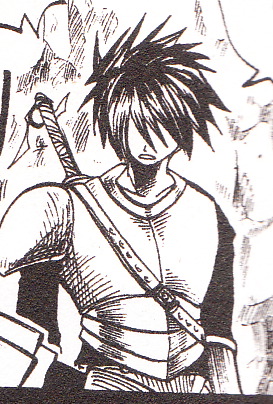 A pic of him when he dyed his hair blonde, and wore a headband to decieve the assassins that were after him. One of very few pictures that shows his face. He kept his hair this length for a quite a while, but he never dyed it again. The scars are real however.
Last edited by Kruk on Sat Sep 11, 2010 9:06 pm; edited 15 times in total
_________________
"The art of war is simple enough. Find out where your enemy is. Get at him as soon as you can. Strike him as hard as you can, and keep moving on."
- Ulysses S. Grant
The BlackFlame of War





Number of posts

: 1090


Age

: 25


Location

: On the Throne of Hell


Registration date :

2008-08-20



Techniques:

Wolf's Blood: Senses become very instinctive allowing Kruk to react extremely fast, but at the cost of relying on choices and such.

Wolf's Claw: Kruk's fingers turn into claws.

Wolf's Aura: Kruk creates 100,000+ wolves and combines their energy into an awe-inspiring aura that amplifies Kruk's power.

Hot Feet: Kruk leaves a trail of fire wherever he goes. That fire can be manipulated however he pleases.

Infinite Thrust: Kruk launches himself at the enemy using a fiery thrust to go beyond the speed of sound aiming his sword(s) at the enemy.

Gravity Core - Gravity Ascend/Descend: Kruk increases Gravity or decreases it. Can be used on any select area.

Gravity Core: Grave: Kruk increases the pressure around a certain point on his opponent's body and crushes it.

Gravity Core - Eternal Grave: Kruk increases the pressure around his enemy's body eventually crushing every bone in their body.

Gravity Core - String Theory: Kruk summons a demon and links the demon's cells with his enemy's cells, then manipulates the demon's body and his opponent's body does the same.

Incineration: Kruk gathers all the energy he has and unleashes it creating a compact blackfire explosion that incinerates anything it touches.

Corruption: Kruk shoots a beam of blackfire into the sky. Few moments later destructive beams of fire rain down over the area.

Annihilation: Kruk gathers all the energy he has and unleashes it as a powerful beam, annihilating anything it touches.

*Obliteration: Kruk stops Time and teleports both him and his enemy into a "blank" dimension then Kruk gathers all the energy in his body and transfers it into his hand(s) or sword(s) and unleashes it at his enemy in the form of a BlackFlame beam, obliterating them into pure nothingness.

*=Can only be used after Forbidden Technique - Hell's Forbidden Destiny is activated.
Last edited by Kruk on Fri Jul 31, 2009 3:29 am; edited 3 times in total
_________________
"The art of war is simple enough. Find out where your enemy is. Get at him as soon as you can. Strike him as hard as you can, and keep moving on."
- Ulysses S. Grant
The BlackFlame of War





Number of posts

: 1090


Age

: 25


Location

: On the Throne of Hell


Registration date :

2008-08-20



Birth

Joshua E. Kruk was born in the Capitol of Vanir, Hoketsu in the Royal Castle on April 15th. He was the second son of Overlord Ratatosk and first son of the Queen of Asgard, Rescha. His birth was kept a secret due to the fact that he was born of impure blood. Ratatosk and Rescha decided to let him live with his uncle, on Earth, until he got old enough to be on his own.

Early Childhood

On Kruk's fourth birthday his uncle gave him his first toy sword as a present. Kruk was so excited he immediately ran outside and began pretending like he was fighting off bad guys. His uncle picked up a wooden stick and began to spar with his young nephew. At that time Kruk was just swinging a toy around while his uncle acted like he was losing and being "defeated", but as Kruk began to age he developed prodigy-like talent.

Early Stages of Potential

Kruk got better each and every day by sparring with his uncle. Near his seventh birthday, Kruk's uncle got enough money to put Kruk into a dojo so he could train, learn, and compete. By the age of 8 Kruk was already a brown belt, and the talk of the country. By age ten Kruk had already gained the fame that was taken away from him at birth. At age eleven Kruk began to take things serious, he knew what he wanted to do when he got older. He wanted to join the army.

Hardworking Teen

Near his twelfth birthday Kruk began his training. Every day Kruk would head out for four to five hours to train both his sword skills as well as his physical abilities. He competed in fights and tournaments anywhere near where he lived. However, as he got older his uncle began to get very sick.

Time Flies by Fast

When Kruk turned fourteen his uncle began to show signs of being sick. By age sixteen Kruk's uncle passed away. Although Kruk was sad, he had to continue. He got a job near his seventeenth birthday at the dojo since he was now eligible for a black belt. He continued his training and then, soon after, he left to join the army.

A Bloody Dream Achieved

Kruk traveled to the nearest army recruiting service. He was drafted on his first day and put into the first regiment. Within one year Kruk had already become a Colonel. Around his eighteenth birthday a war had erupted between Earth and Vanir. Kruk was sent to Vanir to try and invade the capitol, however after ripping through the guards, Kruk was met with an army of over 10,000 men. It's said that he killed over half of them before being captured.

Truth

Kruk was put into a highly guarded jail cell with extremely think walls. Although he was only in the army and war for a year or so he had become famous throughout. His possessions were taken away and the capture was reported to the King. He stayed in the cell for a little under a year, then was sentenced to be executed. It was scheduled to happen in a few days. Within that time the King had told Queen Rescha about it. The queen went to go see the man who had been the talk of the country. When she arrived at the jail cell she immediately recognized his face. She would have never thought that'd it be his son. She ordered for him to be released and sent back to Earth.

The Dark Side of Power

When Kruk was sent back to Earth, he met a man in black armor who was enveloped in fire and an ominous aura. He walked up to the man and asked who he was. He gave no answer, but told Kruk what he(Kruk) wanted and how to obtain it. After Kruk's capture, Kruk felt weak and wanted power. The man, Overlord of Hell, granted Kruk the necessary power and abilities to help him to eventually become one of the greatest warriors in history.

Arsenal of the Demon

Kruk was granted all the powers he possess today, but he had to make his own equipment to match his power. He opened a portal to an isolated wasteland on Vanir. While practicing with his powers, he accidently blasted into a mountain side where he found the perfect material for his weapons. He opened a portal back to Earth and found an abandoned city with a blacksmith shop. All the tools were there. With his material, which he named Black Diamond, he crafted two amazing swords as well as armor, crafted with many different materials besides black diamond. Black Diamond is the perfect material for armory and weapons and when crafted right is extremely strong and is indestructible.

The Flame Burns Bright

After honing his new powers and mastering more and more abilities for three years, Kruk re-entered the war. At the age of 23 Kruk's body reverted to his peak age, at nineteen. He was put back into the position of Colonel in the first unit, and was almost immediately sent back to Vanir to do the task he couldn't three years ago. His unit pushed through past the guards with very few remaining. The King, remembering how strong Kruk had been, sent over 50,000 soldiers at the man in red and black armor. As the army rushed at him flames began to appear his near his feet, the flames were blazing black and quickly enveloped Kruk. His swords formed into a new sword as the Overlord's voice echoed in his head. A million black hellfire wolves formed behind Kruk and with one roar, flames were incinerating everything in their path while Kruk ripped through the soldiers with ease. The wolves went to archery bases and ripped them down. The King, terrified, sent every soldier he had at Kruk, but it was no use. After Kruk tore through the capitol, the King retreated.

The rest of Kruk's history is currently unknown.
_________________
"The art of war is simple enough. Find out where your enemy is. Get at him as soon as you can. Strike him as hard as you can, and keep moving on."
- Ulysses S. Grant
The BlackFlame of War





Number of posts

: 1090


Age

: 25


Location

: On the Throne of Hell


Registration date :

2008-08-20




---
Permissions in this forum:
You
cannot
reply to topics in this forum